Coaches
We have six PGA qualified Pro's that offer their expertise to help develop your game. For more details please click on your preferred professional to read their biography. Each pro's contact details are available in their bio and please make your booking directly with them.
Danny Midgelow
I'm Danny, PGA Professional Golf Coach based full time at Adlington Golf Centre. It was in my early years playing golf full time as an amateur and professional golfer that I realised my passion for coaching and helping others with their game. I now have 18 years coaching experience, and work with beginners, improvers, right through to elite players every day. If you're looking for some help with your game then please don't hesitate to contact me. I look forward to hearing from you.
QualificationsPGA Qualified 2004
Passed PGA degree 2007
Distinction in all golf coaching exams
Achievements- Cheshire County player as amateur
- Turned Pro aged 18
- Played UK mini tours
- Players Tour event winner
- Head coach at Adlington School of Golf
Tel: 07825 665286
Email: danny@schoolofgolf.co.uk
Hannah Davies
QualificationsPGA Qualified 2013
ASQ Golf Coaching Qualification (PGA)
Nike Swoosh Advisory Staff
Sports and Psychology Degree (CAMSFC)
Achievements- Represented Cheshire ladies & girls
- England squad training
- Northern Girls Champion
- 5 Cheshire County Wins
- 1 EWGA Win
Tel: 07855 260365
Email: hannahdaviesgolf@hotmail.com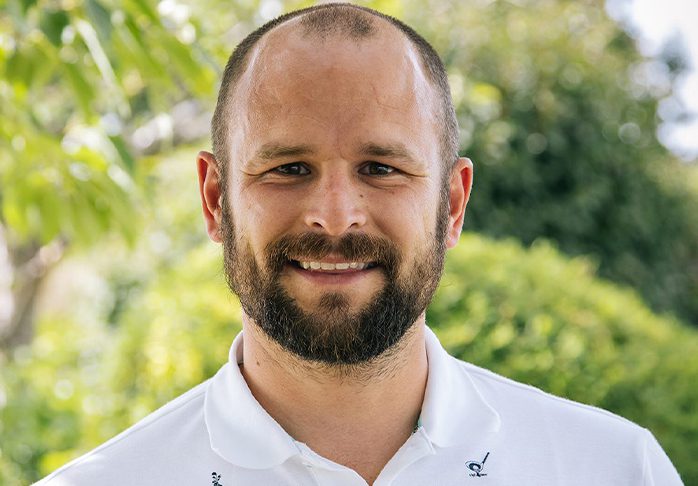 Curtis Hughes
My coaching philosophy is to help you to understand your swing, give you the necessary knowledge and tools for you to be able to diagnose problems yourself in order to teach yourself and provide relevant drills to help your practice and improve your golf. With a wealth of experience and knowledge available to both beginners up to elite players, I make it my main focus to teach in a way that best suits the individual and helps you achieve results. Keeping tuition simple to follow and understand and creating a swing you can trust.
QualificationsPGA Qualified 2018
Higher education in sport psychology
Achievements- Multiple amateur tour wins
- Two holes in one
- 10 years working in professional sport
Tel: 07557 871245
Email: curtis@golfbycurtis.co.uk
Ollie Walmsley
Ollie likes to take a simple approach to coaching, having competed on Europe's satellite tours early in his Professional career he was fortunate enough to spend time with some great players and coaches. During this time it gave him a greater understanding of the game of golf and what is required to get the most out of peoples games. Ollie specialises in short game and works with players on the professional tours helping them improve their wedge play from 100 yards in.

Experiencing several different coaching styles whilst playing golf has helped Ollie create the most effective methods of teaching to maximise learning. Keeping lessons simple is key to the success of his clients.

QualificationsPGA Qualified 2016
Accredited WedgeMatrix instructor
Achievements- Represented Leicestershire County
- Two time National intercollegiate Champion
- One Professional win
- Eleven Professional top 10's
- Competed on Europes satellite tours
Tel: 07497 774699
Email: olliewalmsleygolf@gmail.com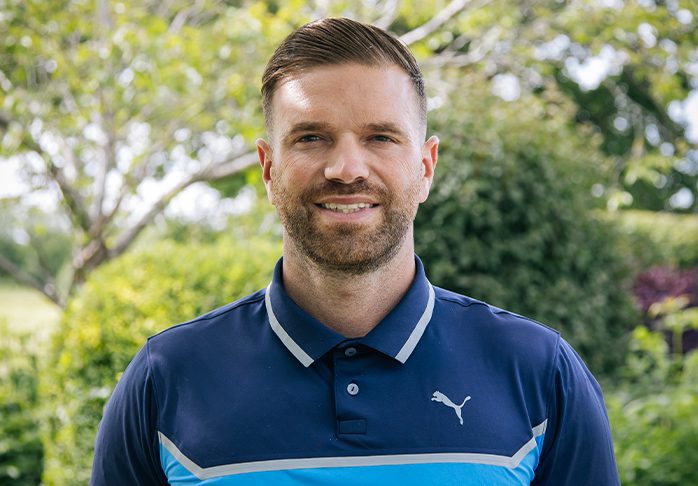 Daniel Haughian
Dan has over 30 years experience in golf. From being an elite junior, he then received a full scholarship to the University of Central Arkansas where he played against many current PGA Tour players. He also still holds the university record of 5 Intercollegiate wins. After graduating he started his PGA Training at Adlington Golf Centre and quickly developed a reputation of being one of the best coaches in the UK working with European Tour, Ladies European Tour and Elite amateurs and helping them achieve many great results.

Dan also works with a number of Premier League footballers and Managers and is also currently the Senior Vice President of Pinnacle Sports where he looks after golfers such as Sir Nick Faldo, PGA Tour player Dawie Van Der Walt and number one junior in the world Frank Kennedy.

Despite working with the very top of the game, Dan has had huge success in helping amateur golfers reach their handicap goals and his belief is that everything must be broken down in easy to understand instruction so that the player can take their new swing from the range to the course.

Qualifications- BA Hons Degree – University of Central Arkansas
- PGA Qualified 2006
- Cheshire County coach

Achievements- Represented Cheshire at Boys & Mens level
- Faldo Junior Series Order of merit at Under 18 & Under 21
- 5 Intercollegiate wins in the USA
- 2 Professional wins
- Faldo Series Advisory Panel

Tel: 07730 659923
Email: dan@dphsports.com
David Myers
With a wealth of experience and knowledge available to both beginners up to elite players, I make it my main focus to teach in a way that best suits the individual and helps them achieve the results they are striving for. Specialising in delivering inclusive golf ,making golf more accessible and better for all abilities. Over the years I have developed a successful junior golf academy and designed programs to introduce children to this wonderful game.
QualificationsPGA Qualified 1995
Accredited PGA Golf Professional - Level 4 Coach
Special Olympics GB Head Coach
Els for Autisum Official Coach
Golf Foundation HSBC Grass Roots Coach
Director of Golf Schools Sports Partnership
I Coach Kids International Coach
England Golf Safe Golf Accredited Coach
Achievements- Head of Disability Golf
- 25 years experience Teaching Golf
Tel: 07775 506091
Email: dmyersprogolfer@aol.com