About Adlington Golf Centre
Adlington Golf Centre is a family owned and run golf business based in beautiful North East Cheshire on the edge of the peak district. You'll find professionally maintained golf courses and driving range with a laid back family friendly approach. Everyone is welcome to come and enjoy the game of golf and membership is not required.
Our History
Adlington Golf Range was opened on 17th April 1992 by owners David & Sandra Moss as a diversification to their farming activities.
The range was officially opened by Sir Norman Wisdom, himself a keen golfing enthusiast.
From day one our ethos has been to be welcoming, family friendly and all inclusive in breaking down the stereotypical image of golf being exclusive, expensive and male dominated.
This ethos remains at the heart of our business today.
Being the first and only golf driving range in the Borough of Macclesfield their business grew quickly.
In 1995 another small piece of their land was developed into a 9 hole pitch & putt golf course that was designed by renowned international golf course architect Martin Hawtree and constructed to an extremely high standard with USGA greens and became our Academy Course.
Although only short in playing length it was high on quality and became very popular with golfers and families especially children, many of whom now continue to play the course in adulthood.
1998 and1999 saw the acquisitions of adjoining land on which a Par 3 course was developed, again designed by Hawtree.
This became the Graduate Course and like its sibling was constructed and maintained to a very high standard and appealed to a growing clientele.
The perfect progression from the Academy Course it also had great appeal to those for whom a full length course was becoming too much.
Taking only around 90 minutes to play around it was also very popular with those who simply did not have time to play an 18 hole course.
In 2015 a new relief road was proposed that would cut right through the Graduate Course.
Fortunately, the 1998 land acquisition provided the venue for the Graduate Course to be relocated and again Hawtree was employed to design the new course which would be similar in concept to the existing course albeit on a very different piece of land with much more attractive topography and vistas.
The Heritage Course opened for play in July 2020 just after the first lockdown and became an instant hit.
Sadly, later in 2020 the Graduate Course closed to accommodate the building of Poynton Relief Road however this course has been immortalised and can still be played in the virtual world on Trackman golf simulators.
The business is still wholly family owned with David and Sandra still actively participating in the business together with two of their sons James and Nick they are already planning the next golf venture for the site which is to be an Australian themed adventure golf course complete with Sydney Harbour Bridge, Uluru and many other Australian features.
1991
1992
1995
1998
1998
2003
2016
2018
2020
2020
2022
Golf Range building commences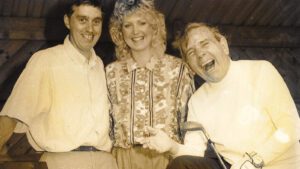 Golf Driving Range opened by Norman Wisdom
Academy Course – Pitch & Putt build
Adjoining land acquired
Further land acquired
Graduate Course opened on 30 acres of newly acquired land
Plans proposed to develop an Australian themed Adventure Golf Course
Work begins to build a replacement golf course for the Graduate Course to be named the Heritage course
Trackman Range installed – largest single system in the World
New Heritage Course opens for play and Graduate Course closes for the last time
Adventure Golf Course awaiting approval from Cheshire East Council